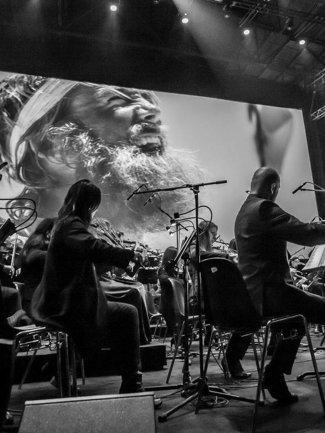 Christian Schumann
Conductor
"A shining star of the new German conductor generation"

(Neue Zürcher Zeitung)
Die Neue Züricher Zeitung calls him ​"a shining star of the new German conductor generation." A truly modern and multi-faceted artist, Christian Schumann is rapidly establishing a reputation as both an opera and symphonic conductor, as well as a leading international force in the contemporary and film music world.
The 2018/19 season features a number of important debuts including engagements with the Hong Kong Philharmonic and Tine Thing Helseth, Philharmonia Orchestra, London and Brussels Philharmonic; where Christian conducts an anniversary portrait concert of the iconic Belgian composer Frédéric Devreese. In November 2018, Christian conducts the Istanbul Opera Orchestra in a very special concert at İş Sanat Hall featuring a brand-new piano concerto by the Grammy Award-winning Afro-Cuban jazz pianist and composer Gonzalo Rubalcaba.
show more

Last season Schumann made highly successful debuts with the Warsaw Philharmonic Orchestra, Oslo and Copenhagen philharmonic orchestras and Orchestre National de Lille, enjoying collaborations with such internationally recognised soloists as Lucas Debargue and Francesco Tristano. In opera, he excelled in a critically-acclaimed new production of Peter Eötvös' Three Sisters at Teatro Colón.

Christian Schumann has appeared in a number of important opera productions across Europe. He conducted Peter Eötvös' operas Die Tragödie des Teufels and Lady Sarashina at Bayerische Staatsoper and Teatr Wielki in Warsaw respectively. At Grand Theatre Avignon he conducted a double-bill featuring Eötvös' Senza Sangue and Bartók's Bluebeard´s Castle, previously enjoying a long-term relationship with the Theater St. Gallen, where he held the Kapellmeister position between 2006 – 2009.

Schumann's special affinity for film music has led him to conduct major projects often to arena audiences, such as at the Krakow Film Music Festival in summer 2017 (Neverending Story). In 2018/19 season he embarks on three major tours across Germany and Austria featuring such classics as Star Wars, The Dark Knight, James Bond, The Jungle Book and Ratatouille. In September 2018 Schumann conducts four open air concerts with Het Gelders Orkest in the Netherlands featuring legendary Dutch rock band Di-rect.

Schumann first came to international attention when he won First Prize at the International Conducting Competition in Budapest. He then went on to secure the International Allianz Academy for Conductors Scholarship, which led to a number of important debuts including appearances with the London Philharmonic Orchestra and the Philharmonia Orchestra at the Royal Festival Hall. Since then, he has worked with a number of important orchestras including Helsinki Philharmonic Orchestra (where he appeared with Steven Isserlis), MDR Sinfonieorchester, Staatskapelle Weimar, Hungarian Radio Symphony Orchestra, Orchestre Philharmonique de Nice and Turku Philharmonic. New music groups included Ensemble Intercontemporain, Remix Ensemble Porto and Österreichisches Ensemble für Neue Musik.

Christian Schumann has conducted a number of recordings for film and video games including the original scores by Philippe Schoeller (J'accuse with SWR Sinfonieorchester), Pascal Schumacher (L'enigme with WDR Funkhausorchester Köln) and Johan Söderqvist (Battlefield 1 & Battlefield Expansion with Philharmonia Orchestra and the LSO respectively).