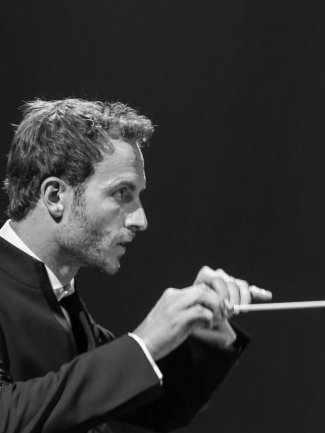 CHRISTIAN

SCHUMANN

JOINS

ROYAL

SWEDISH

ORCHESTRA

AND

DICE
7/10/2022
Christian Schumann joins forces with the Royal Swedish Orchestra and the game developer DICE (one of the most respected, long-standing, and internationally renowned players in the field) to conduct DICE™ at the OPERA on 8, 9, 28 and 29 October.
Schumann makes his debut at the Royal Swedish Orchestra when DICE celebrates its 30th anniversary through a unique collaboration.
Cascades of electronic sound meet the powerful orchestral sound at DICE's 30th anniversary. Together with unique, tailor-made visual projections by video artist Andreas Nilsson, in collaboration with artists from DICE, this will be a memorable evening for all gaming lovers held in a space that is as stunning and evocative as the most captivating games.
Experience Battlefield 1, 3, 4 and V, Battlefield 2042, Battlefield: Bad Company 1 and 2, Star Wars™: Battlefront I and II, Mirror's Edge and Mirror's Edge Catalyst. Tickets are available here.
Schumann has recently had successful debuts with Deutsches Symphonie-Orchester Berlin, Bamberger Symphoniker, and Orchestre symphonique de Mulhouse as well as returns to NDR Radiophilharmonie, Oslo Philharmonic Orchestra, Danish National Symphony Orchestra, and Aarhus and Aalborg symphony orchestras. This upcoming season will see him conducting with the likes of Bamberger Symphony, Stuttgarter Philharmonic, Dresden Philharmonic and more.
Ilaria Faleschini
Associate Projects, Artists & Operations Manager