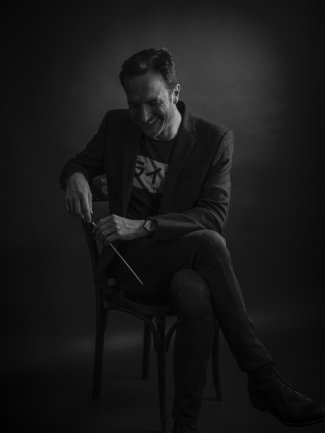 Christian Schumann conducts ​

'

The Sound of Climate' and upcoming debuts in Germany
3/2/2023
The Sound of Climate returns this year with upcoming concerts in Bamberg and Kristiansand in the coming weeks! Conducted by Christian Schumann with David Chocron as Artist Director and Video Producer, in collaboration with Oslo Philharmonic. The Sound of Climate project will be performed in Bamberg with Bamberger Symphoniker on 2 to 4 February and in Kristiansand with Kristiansand Symfoniorkester on 1 to 3 March.
This visually impressive educational concert, which combines classical music and modern technology, addresses the question of climate change in a very engaging, interesting and impactful manner. The programme delved into the world of music linked to nature, featuring Vivaldi and Max Richter's Seasons, and further repertoire from Copland, Respighi and Ketelbey.
Christian Schumann continues with upcoming concerts including debuts with Stuttgart Philarmonic, performing alongside the famous alpinist Reinhold Messner (9 February in München and 12 February in Luzern) and Dresden Philharmonie (11 March at Konzertsaal im Kulturpalast Dresden) for Die Niebelungen, the silent film epic by Fritz Lang with music by Huppertz.
Schumann will also return to NDR on 23 and 24 February for performances with trumpeter Nils Wülker at NDR — Großer Sendesaal.
Click here to read an interview with Christian Schumann, Guest Conductor of the NDR Radiophilharmonie.
Ilaria Faleschini
Associate Projects, Artists & Operations Manager