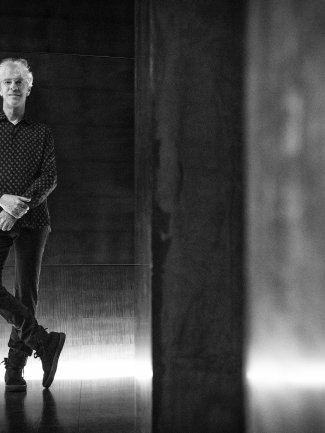 STEWART

COPELAND

'S

NEW

OPERA

​

'

ELECTRIC

SAINT

',

CO-COMMISSIONED

BY

KUNSTFEST

WEIMAR

&

DEUTSCHES

NATIONALTHEATER

WEIMAR

,

PREMIERES

IN

SEPTEMBER

2020
10/12/2019
In a working partnership approaching three decades, composer Stewart Copeland and librettist Jonathan Moore bring their latest opera ​"Electric Saint" to Kunstfest Weimar in September of 2020. The project is a co-commission of the innovative Kunstfest alongside Deutsches Nationaltheater Weimer (DNT). The world premiere performance will take place at DNT on September 6, 2020, with seven subsequent performances in Weimar.
"We are proud to introduce this highly acknowledged and prolific creative duo — the legendary rock star Stewart Copeland and the librettist and director Jonathan Moore — to continental opera audiences," said Rolf Hemke, Director of Kunstfest Weimar. ​"They have chosen a theme which is emblematic of our time: dealing with the existential struggle of turbocapitalism against an altruistic attitude for the common good. We are proud to combine musical excellence with a thought-provoking, politically engaged staging to seduce new audiences to attend an exciting piece of contemporary music theatre!"
After three previous operas together, including two literary adaptations (2013's ​"The Tell-Tale Heart" for Royal Opera House Covent Garden and 2017's ​"The Invention of Morel" for Chicago Opera Theater and Long Beach Opera), Copeland and Moore turn to the real-life rivalry between Nikola Tesla and Thomas Edison, brilliant minds and inventors with diametrically opposing philosophies. Through the questions it raises about the nature of genius, the symbiosis between faith and science, and whether technology should be used for common good or the enrichment of a few, Moore and Copeland see plenty that's current and timely about ​"Electric Saint." Copeland has an even simpler explanation:
"After a day without power recently, I realized that our entire modern ecosystem is completely dependent on electricity, an invention of Nikola Tesla, a man of God! So, the contemporary relevance is: everything."
2020 will also see Stewart Copeland touring his new orchestra project ​'Police Deranged For Orchestra' worldwide. This high energy orchestral evening celebrates the epic rise of Stewart's career in music that has spanned over four decades. The concert will be an evening bursting with The Police's biggest hits including​'Roxanne',​'Don't Stand To Close To Me' and​'Message in a Bottle' sung by a four singers and full symphony orchestra as well as hand-picked highlights from Copeland's other hits.
Moema Parrott
CEO HP Group & Associated Companies | President HP Paris