Stewart Copeland Lights Up the Orchestra Tour — New Dates Added
23/1/2019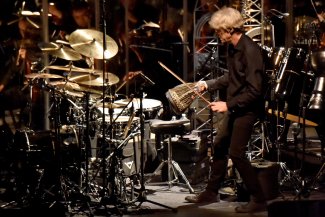 Stewart Copeland​'s orchestral show Stewart Copeland Lights Up the Orchestra has now confirmed additional dates:

2 June: Drum Fusion Festival Bydgoszcz, Poland
29 June: Ravenna Festival, Italy

Audiences can expect an evening packed with epic music from the post-punk powerhouse songs of The Police, to Copeland's best known film scores including Francis Ford Coppola's Rumble Fish and Oliver Stone's Wall Street. From the musical odyssey of Rhythmatist to the Main Theme from The Equalizer with a dash of Spyro the Dragon for good measure. Co-arranged and conducted by musical director Troy Miller (multi-instrumentalist, composer, conductor and Ivor Novello award winning producer, who has worked with an array of artists from Jamie Cullum, Laura Mvula and Gregory Porter, as well as orchestras such as the London Symphony Orchestra, Philharmonia and BBC Concert Orchestras) the performances promise to be a pulsating opportunity to journey through Copeland's catalogue.

With more than three decades spent at the forefront of contemporary music as a rock star, acclaimed film composer as well in the worlds of opera, ballet, world and chamber music, Stewart Copeland is a multi-talented and crucial figure in the global music scene.

UK and German dates for Stewart Copeland ​'Lights up the Orchestra' in 2019:

20 March: Elbphilharmonie, Hamburg
22 March: Nikolai-Saal, Potsdam
23 March: Stahlwerk, Düsseldorf
24 March: Liederhalle, Stuttgart
26 March: Symphony Hall, Birmingham
29 March: The Bridgewater Hall, Manchester
30 March: Royal Festival Hall, London

2019 is the 40th anniversary year of The Police and various activities are taking place including the release of a box set, an international book ​'The Police Diaries' and various TV programmes including a new BBC Four documentary which aired on 11 January.

Stewart ​"plays with some of the most inspiring drummers of the last 50 years including John Densemore of The Doors, Chad Smith of The Red Hot Chilli Peppers, Prince's musical director Sheila E, New Order's Stephen Morris and the Foo Fighters' Taylor Hawkins"

We currently have the possibility to add additional dates to the tour in the periods 4 – 20 June, September 27 – 10 October 2019 and 1 -16 & 21 – 31 March 2020.
Moema Parrott
CEO HP Group & Associated Companies | President HP Paris