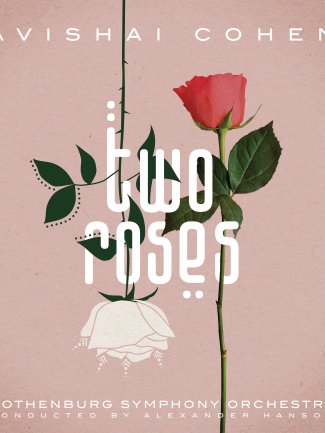 AVISHAI

COHEN

TO

RELEASE

HIS

FIRST

ORCHESTRAL

ALBUM

​

'

TWO

ROSES

'

IN

APRIL

2021
5/3/2021
On 16th April, Avishai Cohen releases his first orchestral album with the French label Believe/​Naïve. The album was recorded during Cohen's residency and sold out concert with the Gothenburg Symphony Orchestra, The National Swedish Orchestra conducted by Sweden's own Alexander Hanson.
The album, Two Roses, release is the continuation of Cohen's unique project ​"An Evening with Avishai Cohen", first presented live late in 2015.
In the centre of the album stands Cohen on bass and vocals alongside his musical partners Elchin Shirinov, Azerbaijan, on piano, and Mark Guiliana, USA, on drums. The tracklist includes settings of Cohen's own contemporary jazz and world music compositions and favoured hit songs such as Seven Seas and Song For My Brother as well as orchestrated traditional Hebrew and Ladino songs like Puncha Puncha and other original classical writings and arrangements. The result is an exhilarating musical experience, intimate yet high impact.
Cohen's music is an intricate tapestry of global and historical influence. A master of Afro-Caribbean music, Cohen has absorbed its complexity. Equally affected by the melodies of Israeli folklore, and the complexity of their Sephardi, Ashkenazi or Yemeni heritages, he reintroduced the traditional Ladino Morenika, as well as popular tunes from his native country, such as Two Roses, which lends its title to this album. The title itself works as a metaphor for the album's adept fusion of jazz, and the symphonic world. Cohen, a fan of jazz standards, which he likes to make his own through very personal arrangements — in this recording , with a version of Nature Boy — nevertheless remains a composer of themes in his own right. Many of his own ​"classics" take their cues from North Africa, the Middle East, Slavic countries and Russia.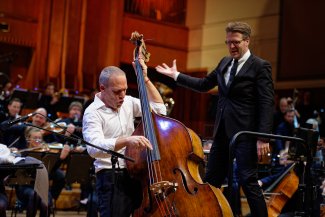 "Recording with an orchestra is an adventure in itself. It's nothing like making a jazz record. An orchestra has its own rhythm, you have to understand how they breathe"

(Cohen)
And now he has finally found an ensemble capable of providing this experience: the 92 talented women and men of the Gothenburg Symphony Orchestra conducted by Alexander Hanson. Cohen did not embark on this adventure alone: his trio includes two musicians for whom he is full of praise. Azerbaijani pianist Elchin Shirinov, who appeared on Cohen's previous record, and New Jersey native drummer Mark Guiliana, with whom Cohen revolutionized the trio's approach.
The unfolding of Two Roses, in several respects, resembles the soundtrack of an epic film, at times tinged with nostalgia, carried elsewhere by a hectic and vibrant energy. On Two Roses, the only things that count are performance, emotion and the personal expression of a citizen of the world who sees music as his only true homeland.
The first single from the album, Arab Medley, is now available to buy and stream all major streaming services.