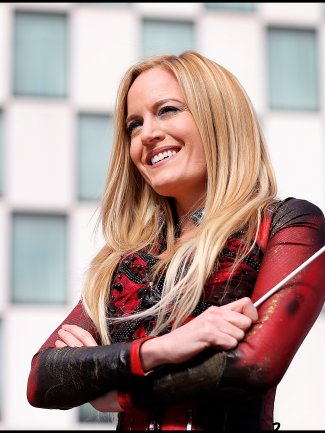 EIMEAR

NOONE

ANNOUNCED

AS

THE

FIRST

FEMALE

CONDUCTOR

TO

PERFORM

AT

THE

OSCARS

CEREMONY
24/1/2020
The Irish born composer & conductor, Eimear Noone, will conduct at this year's Oscar's award ceremony making history as the first time a female conductor to take to the podium at this prestigious event, which is televised worldwide. Noone will lead the 42-piece orchestra, performing excerpts from the five nominated scores.
Rickey Minor, the Oscar musical director, describes Eimear as ​"an amazing kindred spirit who endeavours to elevate music and musicians at every possible turn."
Noone has previously conducted the Philadelphia Orchestra, Dallas Symphony, National Symphony, the Royal Philharmonic of London, Sydney Symphony in Australia, and was the first female to conduct at Dublin's National Concert Hall. As a composer, she has written award-winning scores for video game titles such as World of Warcraft & Warlords of Draenor and written extensively for film including thrillers such as Mirrors and The Hole.
"It's an honour to be there, to help normalize something that I do every day," Eimear tells Variety. ​"Little girls everywhere will see this and say, ​'I think I'll do that.' That's what we want."
Moema Parrott
CEO HP Group & Associated Companies | President HP Paris