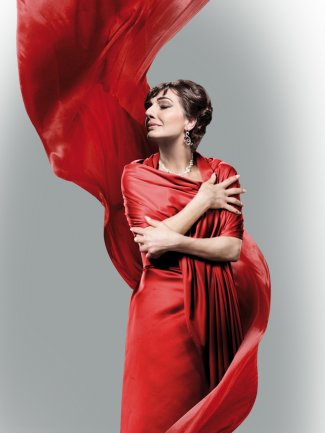 EÍMEAR

NOONE

CONDUCTS

MARIA

CALLAS

HOLOGRAM

IN

CONCERT
3/9/2018
Maria Callas is returning to stages across the world thanks to cutting-edge holographic technology, conducted by Eímear Noone.
Our partners BASE Hologram have just announced the first worldwide dates for its ground-breaking hologram tour featuring renowned opera sensation Maria Callas in North America, Mexico, South America and Europe — click here to see a preview of the concerts.
Callas in Concert will bring the famed opera star back to the stage 50 years after she last performed through breath-taking state-of-the-art digital and laser technology for a live full concert experience featuring original recordings digitally remastered with a 55- piece orchestra. The tour will launch in California before heading to Mexico, South America, a return to the United States and then Europe. Setting up the project and conducting the orchestra will be multi-award winning Eímear Noone, credited as ​"a timeless artist and a woman of right now" (North America and Europe dates only). Eímear's recent performance highlights includes performances at the Paris Philharmonie, with the Sydney Symphony orchestra, Qatar Philharmonic Orchestra, Krakow Film Music Festival as well as a recent celebration of gaming music with Danish National Symphony Orchestra.
Callas in Concert is scripted and directed by Creative Director Stephen Wadsworth, a veteran of many of Callas' performances, including La Scala, the Met, Covent Garden, who last directed Terrence McNally's Callas play Master Class on Broadway, and runs the post-graduate opera training at The Juilliard School. Added to this, Eímear's expertise and experience in the multimedia live concert field is an invaluable contribution to the technical set-up and performance of this ambitious project.
Warner Classics, the label of Maria Callas' recorded legacy, has provided the sound recordings of the diva's voice for this experience. Their recently released Callas: Live (42-CD) and Callas Remastered (Complete studio recordings 69-CD), all remastered with the latest technology, have been hailed as a revelation. In addition, to tie in with the start of the tour, Warner Classics will soon release CALLAS IN CONCERT, which will feature the program of the show.
Full dates for the tour are below.
USA & PUERTO RICO

September 23, 2018 – Jackson Hall (University of California, Davis) – Sacramento, California

November 2, 2018 – Moss Arts Centre – Blacksburg, Virginia

November 7, 2018 – Hanover Theatre – Worcester, Massachusetts

November 8, 2018 – Jorgenson Auditorium (University of Connecticut) – Storrs, Connecticut

November 17, 2018 – Paoli – San Juan, Puerto Rico

February 23, 2019 – Ferst Center (Georgia Tech) – Atlanta, Georgia

October 16, 2019 – Kravis Center – West Palm Beach, Florida

October 18, 2019 – Eisemann Center – Richardson, Texas

MEXICO

September 28, 2018 – Teatro Los Heroes – Chihuahua*

September 30, 2018 – Teatro Victor Hugo Rasvon Banda – Ciudad Juarez*

October 7, 2018 – Auditorio San Pedro – Monterrey*

October 11, 2018 – TBA – Saltillo*

SOUTH AMERICA

October 14, 2018 – Gran Rex – Buenos Aires, Argentina*

October 16, 2018 – Teatro Bradesco – Sao Paulo, Brazil*

October 18, 2018 – Araujo Vianna – Porto Alegre, Brazil*

October 21, 2018 – Movistar Arena – Santiago, Chile*

EUROPE

November 25, 2018 – ENO Coliseum – London, England

November 26, 2018 – Carre — Amsterdam, Netherlands

November 27, 2018 – BOZAR — Brussels, Belgium

November 28, 2018 – Salle Playel – Paris, France

November 30, 2018 – Salle Playel – Paris, France

December 1, 2018 – Palias Des Congres – Lyon, France

December 3, 2018 – TBA – Zurich, Switzerland

December 7, 2018 – Merh! Theater– Hamburg, Germany

* Associate conductors will lead these concerts
Moema Parrott
CEO HP Group & Associated Companies | President HP Paris