EIMEAR

NOONE

EMBARKS

ON

THE

MARIA

CALLAS

HOLOGRAM

EUROPEAN

TOUR
4/11/2019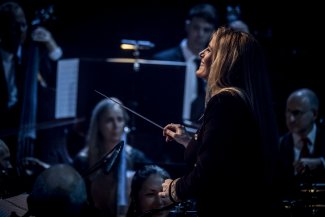 Eimear Noone begins the European leg of Maria Callas in Concert Base Hologram tour this month conducting shows in Barcelona, Berlin, Athens, Padova, Paris, Nice, Brussels, Rosey and Antwerp.
This is a triumphant event that brings the beloved opera legend Maria Callas back to the stage via hologram, singing to the accompaniment of a full live orchestra. Her most iconic performances of Bellini, Bizet, Verdi, Puccini and more feature original recordings digitally remastered and re-created on stage through breathtaking state-of-the-art digital and laser technology.
Eimear Noone will then return to host a second series of ​'High Score' on Classic FM at the end of this year as well as continuing to take video game concerts to orchestras around the world. Recent and upcoming highlights include Danish National Symphony Orchestra, Aalborg, a performance at the United Nations for World Humanitarian Day as well as scoring an animation feature set for release in 2020.
Maria Callas European Dates:
November 7 — , Sant Cugat, Barcelona, Spain
November 9 – Admiralspalast, Berlin, Germany
November 11 — Theatron Hellenic Cosmos, Athens, Greece
November 12 — Theatron Hellenic Cosmos, Athens, Greece
November 15 — Gran Teatro Geox, Padova, Italy
November 17 — Salle Pleyel, Paris, France
November 18 – Bozar, Brussels, Belgium
November 20 — Concert Hall, Rosey, Switzerland
November 24 — Queen Elisabeth Hall, Antwerp, Belgium
December 1 — Palais des Congrès, Nice, France
Moema Parrott
CEO HP Group & Associated Companies | President HP Paris