MUSIC

OF

QUINCY

JONES

TO

OPEN

AND

CLOSE

SZCZECIN

PHILHARMONIC

2018

/

2019

SEASON
9/10/2018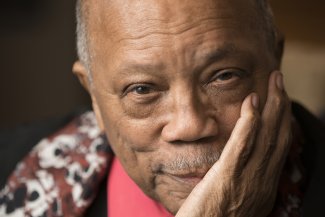 Szczecin Philharmonic Symphony Orchestra's 2018/19 season will open and close with music from living legend of the music world, Quincy Jones.

2018 marks multiple important anniversaries: the Orchestra marks 70 years in the same year that mutual fans Quincy Jones and Krzysztof Penderecki celebrate their 85th birthdays. To mark the occasion, the season opens on 19 October with a programme that includes the world premiere of Quincy Jones's piece Cosmos written for the Szczecin Philharmonic Symphony Orchestra and inspired by Penderecki.

​'Even though we are the same age, he has been one of my biggest inspirations of all-time and it absolutely makes my soul smile to have been able to work on this piece. It was truly a full circle moment because I've looked up to him for many, many years, and having this opportunity was all of the inspiration I needed.' Quincy Jones

This special inauguration to the season is bookended by a celebration of Quincy Jones' ongoing global music impact in a concert on 27 May 2019 with Szczecin Philharmonic. Audiences can expect to be delighted by an orchestral programme that features arrangements of a wide range of Quincy's musical life from big band to pop, Frank Sinatra to Michael Jackson. They are joined by Jacob Collier, Alfredo Rodriguez and Eli Teplin — part of the new generation of artists that Quincy mentors and supports under the baton of Jules Buckley.

Both concerts are fitting tributes to the musical creativity and boundary-pushing curiosity of the Szczecin Philharmonic and Quincy Jones; we're thrilled to be part of these anniversaries and the years to come.
Moema Parrott
CEO HP Group & Associated Companies | President HP Paris