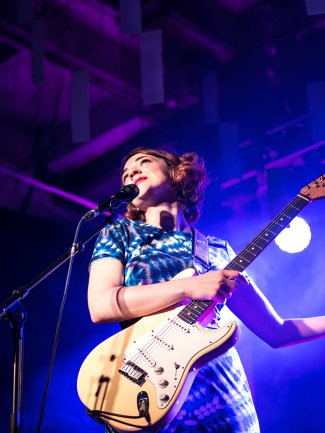 Becca Stevens plays solo at Rockwood and with Jacob Collier at a Quincy Jones hosted evening
11/1/2016
Polyarts artist Becca Stevens performs a solo showcase at Rockwood 3 in New York for the Global performing arts conference APAP at 10pm on the 16 January. Becca is joined by guests, Jacob Collier, Alan Hampton and Nathan Schram, to perform music from her Universal Classics album ​'Perfect Animal' as well as premiering new material.
Becca follows this showcase with a performance the following evening at a Quincy Jones hosted concert, at Subrosa in New York at 8pm.
Described by The New York Times as ​"a best-kept secret" and ​"impressively absorbing", and having been compared to Joni Mitchell, Becca's music draws upon elements of pop, indie-rock, jazz, and traditional Appalachian folk from her native North Carolina. She has been hailed by the press, her peers and fans alike for her unique ability to craft exquisite compositions both for her own band, and for artists who run the gamut of genre from Brad Mehldau, Ambrose Akinmusire, José James, Esperanza Spalding to classical pianist Timo Andres. Fluent on guitar, ukulele and charango, Becca's seamless arrangements embrace inventive textures and idiosyncratic melodic elements, communicated with immense warmth and effortless urgency through her pitch perfect and inimitable vocals.
Following the release of the acclaimed ​'Perfect Animal' last year with Universal Music Classics, Becca is currently writing her next album which is set for a 2017 release. The release will be followed by a worldwide tour as well as some exciting collaborations.
Becca's recent and upcoming highlights include: London Jazz Festival, Barbican, Royal Festival Hall, Barcelona Jazz Festival, National Sawdust New York, New Morning Paris, Moers Festival, Cheltenham Jazz Festival.
Moema Parrott
CEO HP Group & Associated Companies | President HP Paris