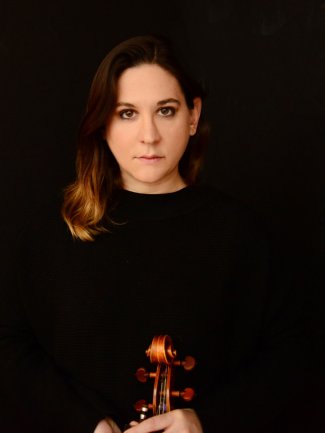 NEW

YORK

PHILHARMONIC

ANNOUNCE

POLYARTS

ARTIST

NADIA

SIROTA

AS

FIRST

CREATIVE

PARTNER
11/9/2018
The New York Philharmonic have announced today that Nadia Sirota will be their first Marie-Josée Kravis Creative Partner. This newly-created role sees Sirota curating two new series, which will be inaugurated in the 2018/19 season; GRoW @ Annenberg Sound ON and Kravis Nightcap season.
Sound ON, a contemporary chamber series, will be hosted by Nadia Sirota in The Appel Room, Jazz at Lincoln Center and will explore the music of our time through the performer's lens, in a relaxed Sunday afternoon setting. Nightcap, a series of late-night cabaret-style performances, will take place in the intimate Stanley H. Kaplan Penthouse and will also feature a lively musical exchange between performer/​composer and Sirota as they dive deeper in to the themes from the evening's proceeding Philharmonic concert.
A leader in the new-music community, Nadia Sirota's career spans solo performances, chamber music, curation and broadcasting; notably she is the Peabody Award winning host and producer of the podcastMeet the Composer. She is also a founding member of the acclaimed chamber sextet yMusic.
As soloist she has appeared with acclaimed orchestras around the world, including Detroit Symphony Orchestra, Colorado Symphony, NAC Orchestra and Orquesta Nacional de España. With four albums of commissioned music under her belt, Nadia Sirota is known for her singular sound and expressive execution, serving as muse to dozens of composers, including Nico Muhly, Bryce Dessner, Missy Mazzoli, Daníel Bjarnason, Judd Greenstein, Marcos Balter, and David Lang. She has also lent her sound to artists such as The National, Arcade Fire, and Grizzly Bear.
Projects currently on offer include:
Nico Muhly Viola Concerto; a project Nadia and Nico had envisioned together for ten years. This exceptional work contains references to their decade-plus musical collaboration. Click here to see a clip of the concerto.
Donnacha Dennehy Tessellatum: A groundbreaking work for viola and microtonal viola da gamba consort, performed by violist Nadia Sirota and viola da gamba player Liam Byrne featuring animation by Steven Mertens.
Daníel Bjarnason Sleep Variations for solo viola and orchestra: Inspired by a Margaret Atwood poem, the work deploys string scrapes and harmonics along with tumbled harps and percussion to create a brooding, semi-conscious breathing effect. The viola inhabits this world as the narrator of the poem.
Educational Seminar: In Composing a Career- A informative talk in which Nadia Sirota speaks about building a sustainable career in music through project-based collaboration. This can also be extended to masterclasses.
For the official New York Philharmonic press release please click here.
For more general information please click here or be in touch with Charlotte Miles.
Charlotte Miles (maternity leave)