Attacca Quartet announce ​

'

Of All Joys'
26/8/2021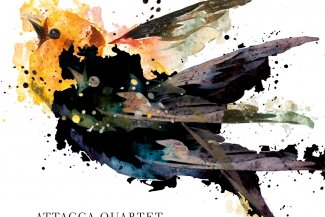 The Brooklyn four-piece ATTACCA QUARTET, channel the joy of music and creativity on their upcoming album ​"Of All Joys" for Sony Classical. The new release features their original take on great works from both the Minimalist movement and the Renaissance era. Today, they share the first single from the album ​"Weep, O Mine Eyes", their own arrangement of John Bennet's famous madrigal. Peaceful and meditative, the plaintive, melancholic strings conjuring a deep stillness and sense of majesty – listen to the work here.
Taken from upcoming album the first single ​"Weep, O Mine Eyes" was chosen for both it's beauty, and its legacy. ​"We wanted to point out the direct lineage of the madrigal from Luca Marenzio to Bennet and to Dowland, and its history concurrent with secular music," says violinist Domenic Salerni. ​"They are no less spiritual or enlightened than works created for strict ecclesiastical use."
Featuring music by Philip Glass, Arvo Pärt, as well as several other Renaissance composers, ​"Of All Joys" is centred around the six movements of Glass' ​"String Quartet No. 3 ("Mishima")", which were themselves excerpted from Glass' score for Paul Schrader's 1985 film Mishima: A Life in Four Chapters. Dramatising the life and death of Yukio Mishima, considered one of Japan's most important and influential writers of the 20th Century, the quartet were drawn to how Glass created musical movements that resonated within the thematic structure of the film, yet that also reached outside and into the kind of deep soul-searching that ​"Of All Joys" asks of its listeners.
With this album Attacca Quartet continue to develop their dexterity between various genres and specialisms, and this season look forward to performances at Ojai Festival, Amsterdam New String Quartet Biennale, IGSM Boston, Phillips Collection and Strings of Autumn Prague, as well as Celebrate Brooklyn on Saturday 28th August.