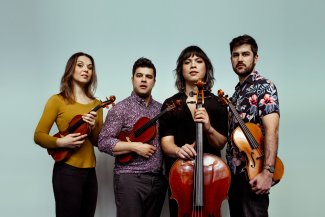 "Their playing is exuberant, funky and more exactingly nuanced."

(New York Times)
Grammy award-winning Attacca Quartet, as described by The Nation, ​"lives in the present aesthetically, without rejecting the virtues of the musical past", and it is this dexterity to glide from the music of the 18th through to the 21st century repertoire that places them as one of the most versatile and outstanding ensembles of the moment – a quartet for modern times.
Touring extensively in the United States, recent highlights include Lincoln Center's White Lights Festival and Miller Theatre, both with Caroline Shaw, Phillips Collection where they have been re-invited this season, Chamber Music Detroit, Red Bank Chamber Music Society, Chamber Music Austin, Isabella Stewart Gardner Museum in Boston, Banff String Quartet Festival and other upcoming engagements at Dumbarton Oaks, and Bang on a Can Festival in Brooklyn. Attacca Quartet has also served as the Quartet in Residence at the Metropolitan Museum of Art, the Ensemble-in-Residence at the School of Music at Texas State University and Juilliard's Graduate Resident String Quartet, where they premiered the film Plan and Elevation (featuring the music of the same name by Caroline Shaw) last year.
Outside of the US, recent performances include their debut in London at Kings Place and in Oslo at the Vertavo Haydn Festival as well as performances at Gothenburg Konserthuset, MITO Septembre Festival in Italy and Sociedad Filarmónica de Bilbao. 2021 will also see them touring again in South America – including Sala São Paulo in Brazil, Fundacion Beethoven in Chile and Teatro Mayor in Bogota. This season Attacca Quartet has also been exploring new digital formats, taking part and also producing a number of filmed and streamed concerts for Banff Centre International String Quartet Festival, Duke Performances, Austin Chamber Music Center, as well as their first digital engagement for Szczecin Philharmonic Orchestra.
Passionate advocates of contemporary repertoire, the Quartet are dedicated to presenting and recording new works. Their latest recording project, Orange, for which they received the 2020 Grammy Award for Best Chamber Music/​Small Ensemble Performance, features string quartet works by Pulitzer-prize winning composer Caroline Shaw. Greatly received and praised by the critics, it has also been featured in NPR´s List of ​'25 Best Albums of 2019' and ​'10 Classical Albums to Usher in the Next Decade' and in New York Times' list of the ​'25 Best Classical Music Tracks of 2019' for Valencia. It was also shortlisted for the 2020 BBC Music Magazine Awards and several Opus Klassik Awards.

Previous recordings include three critically acclaimed albums with Azica Records, including a disc of Michael Ippolito's string quartets, and the complete works for string quartet by John Adams. The latter was praised by Steve Smith of The New York Times as a ​"vivacious, compelling set" and described the Attacca Quartet's playing as ​"exuberant, funky, and … exactingly nuanced." The album was the recipient of the 2013 National Federation of Music Clubs Centennial Chamber Music Award. Additional awards for their recordings include both the Arthur Foote Award from the Harvard Musical Association and Lotos Prize in the Arts from the Stecher and Horowitz Foundation

Other accolades include First Prize at the 7th Osaka International Chamber Music Competition, the Top Prize and Listeners' Choice award winners for the Melbourne International Chamber Music Competition, and Grand Prize Winners of the 60th annual Coleman Chamber Ensemble Competition.

The Attacca Quartet has engaged in extensive educational and community outreach projects, serving as guest artists and teaching fellows at the Lincoln Center Institute, the Boston University Tanglewood Institute and Bravo! Vail Valley among others.
Gallery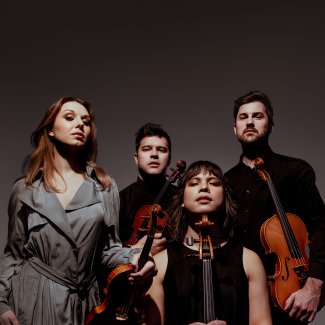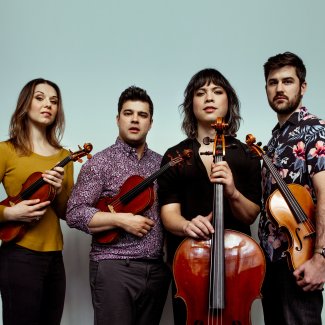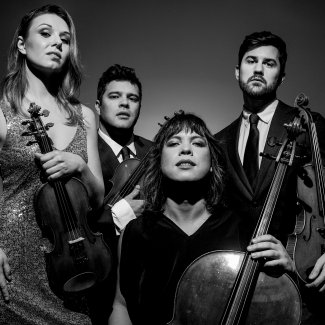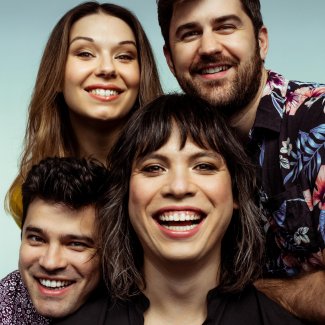 Attacca's appearance was all too brief, but could justify their own turn at directing the festival one day. Whether in works by Adams, Jessie Montgomery or Caroline Shaw, in Paul Wiancko's vividly episodic ​"Benkei's Standing Death" or Gabriella Smith's jam-like ​"Carrot Revolution," these open-eared and open-minded players don't seem to bring a piece to the stage until it is etched into their bones, so fully is each score embodied.
The New York Times - Josh Barone
"Attacca travel from Haydn to this adventurous mix of contemporary, electronic and rock impact music, but know how to ​"live in the present without rejecting the virtues of the past". An example of a successful crossover. As Alban Berg said to Gershwin, ​"music is music".
Rolling Stones Italy on Real Life, 2021
"…a surprisingly powerful experience"
(Charlotte Gardner, The Strad, January 2020)
"The quartet matched with its own clean-edged sound, often without vibrato, alive to the vocal line's every wax and wane and remaining glued to the music's elastic tempos. Perhaps the greatest imprint on the memory is the atmosphere the musicians spun in the hall: one of profound silence, and even the room-filling fortissimo bursts felt weighted in that context, holding the audience's attention to an unusual and moving degree."
(Charlotte Gardner, The Strad, January 2020)
"The pieces on Orange shoot off in thrilling and unpredictable directions…the music of Orange excludes joy and a sense of wilderness"
Pitchfork
"They may be a relatively young ensemble, but already they come very close to epitomizing the string quartet ideal…Mastery like this is scarce enough in quartets that have played together for decades."
The Washington Post
"exuberant, funky and…more exactingly nuanced."
The New York Times
"The Attacca Quartet enthralled a standing-room-only crowd."
The Strad
"the opening work on the recording [shows]…the Attacca Quartet's superlative technical and artistic execution."
Gramophone
"They are rollicking, raucous, and highly rhythmic and the perfect demonstration of the quartet's ability to be precise."
Strings
"…Seeing the Attacca Quartet's incredible performance of his music. Three cheers to them for capturing the multiplicity of personalities embedded in Adams' music."
Bachtrack
"The highlight was the second movement, which is a gem, and was played with elegance and charm, but also a sense of relaxed enjoyment from a quartet steeped in contemporary ​"knowingness" playing music of an earlier, perhaps simpler, age."
Artsdesk