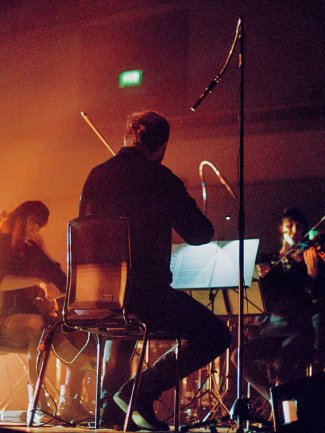 Polyarts is thrilled to welcome Echo Collective to its roster for general worldwide management
23/7/2020
Polyarts is thrilled to welcome Echo Collective to its roster for general, worldwide management.

Echo Collective is a creative and diverse community of classically trained musicians and instrumentalists, based in Brussels. Their music can be described as​"post-classical" or​"neo-classical" and as well as expert performers and collaborators, the ensemble compose original music for the stage and screen.

Their most recent album, 12 Conversations with Thilo Heinzmann, was released in September 2019, on Deutsche Grammophon and featured works for string quartet by Jóhann Jóhannsson, with whom Echo Collective collaborated with for many years. The album was described as ​"A stunning record of vibrant highs and sedated lows, interpreted with irresistible grace and wit" and has garnered a huge number of international followers and listeners.

Recent performance highlights for them include Elbphilharmonie Hamburg, Barbican London, Pardiso Amsterdam, Funkhaus Berlin, Royal Albert Hall, Concertgebouw Amsterdam and L'Auditori Barcelona, as well as festivals such as Latitude, Big Ears, ATP, La Route du Rock, Eurosonic, Reeperbahn and Primavera.

As well as performing and upcoming recordings of their own compositions, the group collaborates with contemporary composers and bands, working on film scoring and production, recording sessions and live tours. Past and on-going collaborations include Jóhann Jóhannsson, A Winged Victory for the Sullen, Joep Beving, Christina Vantzou, Daniel O'Sullivan, and Erasure, and have featured on film soundtracks such as Lion, Puzzle and Peter Baert's Façades.

Founded by Neil Leiter and Margaret Hermant, Echo Collective rose to fame with their debut album, Echo Collective Plays Amnesiac, which was commissioned and championed by L'Ancienne Belgique in early 2018. October 2020 marks the release of their first album of original music, released on 7K! records, seeing them develop from not only trusted accomplices and expert interpreters but visionary composers and creators.