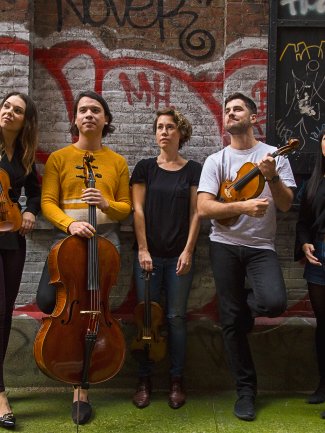 ORANGE

:

ATTACCA

QUARTET

'S

UPCOMING

NEW

ALBUM

RELEASE

WITH

CAROLINE

SHAW
28/2/2019
Attacca Quartet perform works by Pulitzer Prize-winning composer Caroline Shaw on their latest album, Orange. The release features six of Shaw's pieces for string quartet and is the first release in a new partnership between two record labels – New Amsterdam and Nonesuch Records – established with the goal of enabling contemporary American composers to realise creative ambitions that might not otherwise be achievable.
Orange is available for pre-order now at iTunes, Bandcamp, and the Nonesuch Store, where the album track ​"Plan & Elevation: IV. The Orangery" may be downloaded immediately. Nonesuch Store and Bandcamp pre-orders also come with an exclusive print of a painting created and hand-signed by Shaw and Attacca Quartet. The album will also stream at Spotify, Apple Music, and other digital service providers.
Shaw describes the world she built for Orange as a garden that she and Attacca Quartet are tending. She uses the string quartet's centuries-old combination to create a rich environment where traces of what has grown there before — left by Haydn, Mozart, Ravel, Bartok, Bach, Monteverdi, and Josquin — provide nourishment for new life.
"Hints of past years' growth remain in the soil, and so the new growth has been partially shaped by the old," explains Shaw. ​"The colours are vivid and familiar, and the shapes of the leaves follow a pattern that you seem to know until you don't." She continues, ​"This album is a celebration of the simple, immediate, unadorned beauty of a natural, everyday, familiar thing."
When describing the power of performing the works on Orange, Attacca Quartet explains that ​"playing and listening to Caroline Shaw's music can turn a concert hall into your own peaceful living room. Between rehearsals and performances, we found ourselves marvelling in the unassuming honesty of every passage and the profound effect it has on ourselves and our audiences."
The album will be released on 19 April 2019.
Moema Parrott
CEO HP Group & Associated Companies | President HP Paris