Stewart Copeland Lights Up The Orchestra — Germany Tour
25/4/2018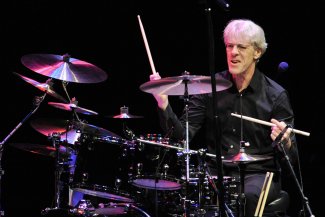 Polyarts are pleased to announce a new orchestral programme for Rock and Roll Hall of Fame-inductee, Stewart Copeland. Recruiting Sting and Andy Summers in 1977, Copeland is renowned as the founder of The Police, a band that became a defining force in rock music from the​'80s through to the present day. His career includes the sale of more than 60 million records worldwide, and numerous awards, including five Grammy awards. He is an acclaimed film composer, as well as in the disparate worlds of opera, ballet, and world and chamber music.

Charting the highlights of one of the most varied artists on the Polyarts / HarrisonParrott roster (and in the world of music), this is a high impact orchestral celebration of Stewart Copeland's legendary career in music. Stewart presents an evening packed with epic music from The Police songs, to highlights from his best known classical works, and eclectic film scores —from Francis Ford Coppola's Rumblefish to Oliver Stone's Wall Street— and even some of Spyro the Dragon.

The new concert programme will be premiered in Germany during March 2019 including a performance at Hamburg's Elbphilharmonie, conducted (and co-arranged) by Musical Director Troy Miller (Producer for Jamie Cullum, Laura Mvula and Gregory Porter) and featuring the full, world-famous Orchestra Babelsberg.

20.03.2019 Hamburg, Elbphilharmonie
22.03.2019 Potsdam, Nikolaisaal
23.03.2019 Düsseldorf, Stahlwerk
24.03.2019 Stuttgart, Liederhalle

Stewart has recently appeared on Amazon's The Grand Tour and his opera The Invention of Morel has its LA debut earlier this year with Long Beach Opera. This season, The Sheriff of Luxembourg, Stewart Copeland's rousing new work for solo percussion and tape, was premiered by Christoph Sietzen in Cologne and toured in Europe throughout the season. Other recent highlights include performances with Chicago Symphony Orchestra, Pittsburgh Symphony Orchestra, also at the Virginia Arts Festival, and the Royal Liverpool Philharmonic Orchestra.
Moema Parrott
CEO HP Group & Associated Companies | President HP Paris