Eimear Noone performs at Krakow Film Music Festival
18/5/2018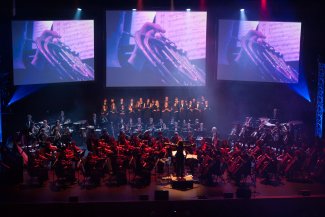 This year's FMF film music festival held in Krakow 29 April — 5 June will culminate in the Video Games Music Gala featuring Polyarts' Eimear Noone as a special guest. Eimear Noone, dubbed the Irish Queen of Game Music will perform pieces from her most famous soundtrack — the celebrated World of Warcraft: Warlords of Draenor. Eimear will also present on panels throughout the week including ​'Varese Sarabande presents: The after-life of film music'.
Through her music on World of WarCraft and the expansion, Warlords of Draenor, Eímear's music has reached over a 100 million people and continually inspired players to invent and build new worlds for nearly 15 years. This score achieved the Hollywood Music in Media Award for Best Video Game Score and was nominated for 5 Annual Game Music Award and The ASCAP, Composer's Choice Award upon release.
Eímear Noone is an award-winning, acclaimed game music composer and one of the world's premier conductors of game scores, having also conducted The Legend of Zelda, Symphony of the Goddesses and World of Warcraft franchises with orchestras including the Royal Philharmonic, The Philadelphia and Pittsburgh Symphony. As a primary conductor for Video Games Live, Guinness World Record​'s longest running orchestral touring show, Eímear has conducted in China, Brazil, Canada, Qatar, Europe, Mexico and Malaysia.
Moema Parrott
CEO HP Group & Associated Companies | President HP Paris