Eímear Noone performs with Qatar Philharmonic Orchestra
16/2/2018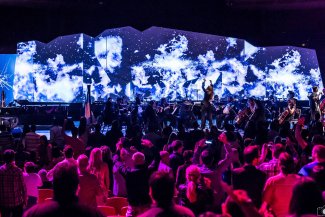 On 23 February, our recent signing, conductor Eímear Noone appears at the Al Mayassa Theatre in the Qatar National Convention Centre with the Qatar Philharmonic Orchestra. Video Games Live™ is an immersive concert event featuring music from the most popular game music of all time featuring the Qatar Philharmonic Orchestra alongside exclusive video and arrangements, special guests and interactive segments.
Eímear is one of the world's premier conductors of game scores, having also conducted The Legend of Zelda, Symphony of the Goddesses and World of Warcraft franchises with orchestras including the Royal Philharmonic, The Philadelphia and Pittsburgh Symphony.
Eímear's recent and upcoming conducting highlights include: Dallas Symphony Orchestra, Sydney Symphony Orchestra, Washington National Symphony Orchestra and Krakow Film Music Festival. Her recent speaking engagement include InspireFest, The Web Summit and will she give the keynote address at the largest celebration of International Women's Day in Dublin in March 2018.
Moema Parrott
CEO HP Group & Associated Companies | President HP Paris