Polyarts signs Eímear Noone for Global Management
12/1/2018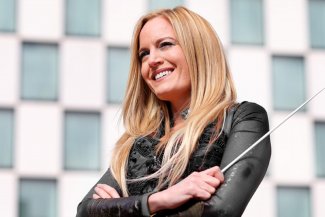 Polyarts is thrilled to announce worldwide representation of California based award-winning Irish composer, conductor, producer and speaker Eímear Noone.
"If you have ever battled wolves at the gates of Draenor or helped Link rescue Princess Zelda then chances are you've been moved by the music of Eímear Noone." The Times
Having composed extensively for film and videogame, Eímear is responsible for some of the most enduring soundscapes on World of Warcraft, Warlords of Draenor which achieved the Hollywood Music in Media Award for Best Video Game Score and was nominated for 5 Annual Game Music Awards and The ASCAP, Composer's Choice Award, and other best-selling video game scores.

Eímear is one of the world's premier conductors of game scores, including The Legend of Zelda, Symphony of the Goddesses, Video Games Live (VGL) and World of Warcraft franchises. She has conducted orchestras such as the Royal Philharmonic, Pittsburg Symphony and The Philadelphia and in the film world, has worked on scores for directors such as Gus Van Sant and Joe Dante, orchestrating for Oscar nominee Javier Navarrette (composer of Pan's Labyrinth) creating haunting music for thrillers Mirrors and The Hole.

In December 2016 she conducted her own programme called Video Games Classic with the RTÉ National Symphony Orchestra, a sold out performance featuring game music alongside the classics that inspired those composers. She is at home performing new music, contemporary repertoire and traditional classical programmes. She has led some of the world's great ensembles, including: Dallas Symphony Orchestra, Sydney Symphony Orchestra and Washington National Symphony Orchestra. Eímear has had the pleasure of conducting the orchestra for the Los Angeles Ballet in their inaugural production of Tchaikovsky's The Nutcracker earning recognition from the LA Times. She has also shared the stage with Pierce Brosnan and Roma Downey in her own production This Is Ireland.
Eímear founded the Dublin International Game Music Festival and is a sought-after commentator on music, technology and creativity.

Eímear's recent and upcoming highlights include performing at Miami Music Week, ComicCon, E3, GamesCom, Fimucité 11, the Qatar Philharmonic Orchestra, and the Krakow Film Music Festival. As a speaker, she's spoken at InspireFest, The Web Summit and will be the keynote speaker at the largest celebration of International Women's Day in Dublin.
From the greatest musical and storytelling traditions; Eímear Noone is a timeless artist and a force to be reckoned with.
Moema Parrott
CEO HP Group & Associated Companies | President HP Paris