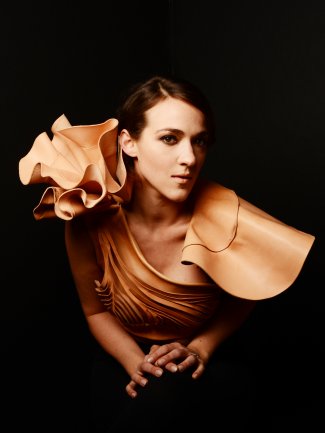 Becca Stevens returns to Europe for the ​

'

Regina' Autumn Tour'
28/9/2017
Becca Stevens returns to Europe to tour her latest album Regina (released March 17, Ground Up) with dates across the UK, Netherlands, Italy, Spain and Slovenia. Becca has taken a journey that began with a study of Queen Elizabeth I and expanded this into tributes to various queens from history, literature, folklore and her own imagination in this album. Performance highlights from the summer tour include The Olympia Paris, North Sea Jazz, Jazz a Vienne and Middelheim Jazz Festival.
Her style has always evaded categorisation and crosses the limits of genre, and even more so with Regina. Stevens mixes pop, rock, R&B and funk along with traditional Appalachian and British folk, classical, world music, and jazz.
The album has received copious praise throughout the US and Europe.
Click here for press file
"…the most spectacular of the albums" 5* review, Downbeat Magazine (USA)
"…the New York Siren's fourth and most impressive album to date" Mojo (USA)
"It's a rich tapestry on which to work, and Stevens does so with aplomb" London Evening Standard (UK)
"Regina has an artistic, intellectual and feminist approach which reminds us of Tori Amos…" Rolling Stone (France)
"…captivates with great space, feeling, beautiful resolution and detail." Audio Magazine (Germany)
Tour highlights in October/​November include Tourcoing Jazz Festival (Tourcoing, France), Jazz Festival Ljubljana (Slovenia), Jazz Madrid and Teatro Victoria Eugena (San Sebastian, Spain), Ronnie Scott's (London, UK), Paradiso Kleine Zaal (Amsterdam, Netherlands) and Lantaren Venster (Rotterdam, Netherlands) as well as concerts across Italy, in Guernsey (Channel Islands) and Scotland.
For full touring details please see www​.bec​ca​stevens​.com/tour