Troy Miller

&

Laura Mvula premiered orchestral project with London Symphony Orchestra at the Barbican
28/7/2017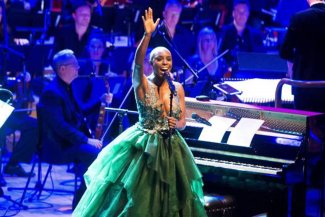 On 21 July, Laura Mvula's Ivor Novello Award winning original music, conducted and arranged by Troy Miller, was premiered with the London Symphony Orchestra at a sold out Barbican.
Polyarts artist Troy Miller has recently collaborated with many orchestras including the London Philharmonic Orchestra and BBC Concert Orchestra. For this new show, Miller arranged the music for the LSO and conducted the performance.
Miller also produced Mvula's 2016 album The Dreaming Room and played drums on her 2013 debut Sing To The Moon and has worked with stars such as Amy Winehouse, Adele, Mark Ronson, Roy Ayers, Gregory Porter, Lulu, John Newman, Omar, Cee Lo Green, Chaka Khan, Macy Gray, Grace Jones, Sister Sledge, Rebecca Ferguson and Donna Summer.
The evening's concert was met by standing ovations and The Evening Standard in their five star review said about the evening: ​"With her sister Dionne Douglas on guitar, her extended family in the audience and conductor Troy Miller, who produced her LSO-backed second album The Dreaming Room, at her elbow, she launched into the shimmering Overcome, her vocals as uplifting as the sentiments of the song. Framed by Miller's clever arrangements — rousing strings, dynamic percussion, moments of quiet lushness — and underscored by her five-piece band, Mvula's voice mesmerised and often astounded."
The Financial Times said in their review: ​"There's a thrill in hearing pop music with ambition being played seriously. Mvula's music is already lush and maximalist…and Troy Miller's arrangements filled in the gaps, extending some parts and highlighting new elements."
Regarding her work with Troy, Laura Mvula says: ​"I feel very privileged to know Troy, he cares about the music passionately and he's such a smart musician."
Speaking about the singer, Troy says: ​"Laura Mvula is a ground-breaking and unique voice, so deep that she feels every note of the music. I believe she has a profoundly important role in this musical generation."
This project is a perfect example of the innovative and exciting programming at the Barbican and British orchestras, successfully inspiring and bringing in new audiences to orchestral performances at London's key venues.
For more information on this project contact Moema.​parrott@​harrisonparrott.​co.​uk
Moema Parrott
CEO HP Group & Associated Companies | President HP Paris