Critical acclaim for world premiere of Cañizares' Guitar Concerto in hommage to Paco de Lucía
1/6/2016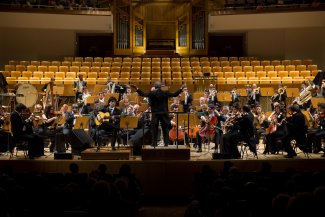 Last weekend Juan Manuel Cañizares premiered his flamenco concerto for guitar and orchestra Al-Andalus in Madrid with Orquesta Nacional de España conducted by Josep Pons.
The successful concert was described as ​"Symphonic Flamenco" (El País) and received critical acclaim from the press.
"Juan Manuel Cañizares is currently at the peak of excellence for flamenco guitar (…). Cañizares has a beautiful sound, a great technique and wonderful taste. He has dedicated this concerto to his mentor Paco de Lucía and brings us three movements influenced by deep flamenco in which his wonderful solos and a fantastic orchestration makes a great mix". (EL MUNDO)
Josep Pons described it as ​"one of the most important events in the world of classical guitar since the world premiere of Concierto de Aranjuez".
Cañizares went on to say: ​"When I was in the initial stages of composing the concerto, I received the shocking news of the death of my friend and mentor Paco de Lucía. All I could think about were the ten years that we lived and worked together and I wanted every single note to be imbibed by that feeling and by the sadness, the emptiness and pain that I felt with the loss of this person that I loved". (ABC)
"I have always had a foot in each genre" quotes El País in an interview ​"From my perspective, classical and flamenco complement each other. You can't be a good guitarist if you don't learn from Paco de Lucía… Nor can you be without studying Falla, Granados, Albéniz or Scarlatti." Watch the full interview in Spanish.
Cañizares will tour this concerto along with his various other exciting projects in the 2017/18 season. Future engagements include performances of Rodrigo's Concierto de Aranjuez with NHK Symphony Orchestra, Tokyo (under Juanjo Mena), City of Birmingham Symphony Orchestra (under Josep Pons) and Cadaqués Orchestra amongst others.