FRANCESCO

TRISTANO

PERFORMS

AT

THE

WEATHER

FESTIVAL

IN

PARIS

WITH

ORCHESTRE

L'AMOUREUX
5/6/2015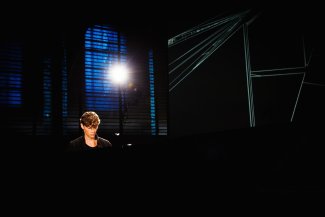 Polyarts/​HarrisonParrott artist Francesco Tristano and techno pioneer Derek May took Paris by storm at the open air Weather Festival on 4 June (approximately 15,000 audience), performing an electro, piano and orchestral concert with the Orchestre lamoureux, conducted by Dzijan Emin and arranged by May.
Francesco and Derrick have a long and successful history of working together on new projects — including original compositions, electro club dates and festivals, and contemporary classical concerts with a twist which blur the lines between various genres.
Watch clips from the concert, filmed by ARTE.
Recent and upcoming dates for Francesco include a recital at the Queen Elizabeth Hall, London with Alice Sara Ott on 11 June as part of the International Piano Series, a performance at the Théâtre du Châtelet with Michel Portal, a residency with Orchestre National de Lille and a collaboration with Kristjan Järvi and the MDR Sinfonieorchester Leipzig.