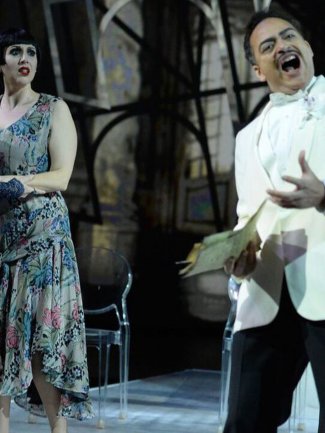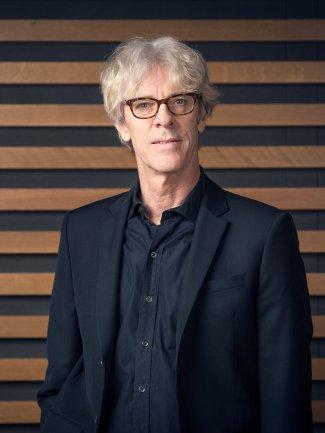 Stewart Copeland: Opera and Oratorio
"Morel's rhythmically hypnotic score greatly validates him as a classical composer to reckon with"

(Opera News about The Invention of Morel)
Stewart Copeland has spent more than three decades at the forefront of contemporary music as rock star and acclaimed opera composer as well as film, ballet, and world and chamber music. An extension of Copeland's incredible talent, successful explorations into other formats have helped him create a prolific body of work, including many operatic works.
The Invention of Morel
A fugitive from justice has found refuge on a remote island. There is rumour of a strange disease connected to this deserted place. Suddenly a group of exotic tourists arrive. He fears arrest but falls in love with one of the intruders. To meet her would be to risk everything but his heart drags him to her. She ignores him completely! Soon he is barging in on the tourists' strangely anachronistic party, wailing for attention. Why won't she acknowledge him, why won't they arrest him? What are those machines in the basement? And why does she keep repeating the same conversation with that Morel? A charismatically odd man, made even stranger by his isolation, solving a cosmic mystery while maddened by love is the sort of fantastic romance that opera serves so well.
Satan's Fall
In the vast 17th century epic of John Milton's Paradise Lost there lives a story within the story. It concerns the essential prequel to the sacred tale: Why did Satan do it?
How and why does Almighty God have an adversary? We get an answer in Books V and VI where we learn of Satan' journey to the dark side and of the mighty battle that cast him out of heaven.
The story is told by the archangels Raphael and Raphaella, accompanied by the choir in various configurations. God, Satan and Messiah are big solo singing roles. The dramaturgy can be illustrated by projections of the fantastic images by Blake, Dore and others. These paintings are so specific (and magnificent) that the singers can pretty much stand and deliver.
"ELECTRIC SAINT" ( working title) A new Opera by Stewart Copeland ( Score) and Jonathan Moore ( Librettist and Director)
After three successful Opera collaborations, two Electric figures of music theatre are reunited to Bring to the operatic stage the Race for Electricity!

In this powerfully theatrical new opera , they will portray Tesla as the radical scientist, inventor, philosopher, prophet and mystic that he was.

His journey from poverty and obscurity to fame and fortune and back again. An inversion of the American Dream.

Congruent with his notion of the circularity and concurrence of time, the opera will be experimenting with time and space in the dramaturgy and music, reflecting his own understanding of the bends, shapes and repetitions of time itself.

The relationship/​conflict between Tesla and Edison will be central . In a sense, they were the Steve Jobs and Bill Gates of their time: one the brilliant marketer and businessman, the other a visionary and ​"tech guy."

Tesla represents radical, detail oriented genius and Edison a hugely talented inventor but also a shrewd business man and showman who was very much a paradigm of the Laissez Faire, ruthless free market of America at the time. Tesla believing that electricity and power should be free for the good of humanity, Edison seeing it as a source of immense personal wealth. A contemporary example of this polarity being Tim Berners-Lee, British founder of the World Wide Web as we know it today. He decided to give it to humanity free of charge, believing that it was for the good of all, not just his own wealth.
"This is Copeland's fifth opera (he is also credited as co-librettist), and he has his chops in place. The 87-minute score has the feel and flow of opera spiked by occasional pastiches of rhumbas or ​'20s jazz and a minimum of rock."
(THE LA TIMES ABOUT THE INVENTION OF MOREL)
"It's no surprise coming from the guy who got the No. 10 spot on Rolling Stone's list of 100 greatest drummers of all time that, in ​"The Invention of Morel," the drum parts are awesome — they are the incessant heartbeat of the opera."
(CULTURE SPOT LA ABOUT THE INVENTION OF MOREL)