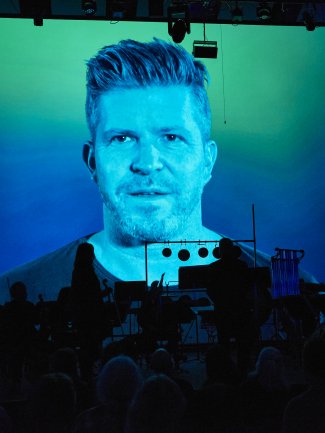 SOUNDBOX
Edwin has curated projects for Soundbox with San Francisco Symphony since 2015. This experimental late-night live music series is a laboratory for exploration of new musical ideas and immersive audience experiences, continuously pushing the envelope with adventurous programming and innovative design. Each performance is unique — encompassing shifting stage settings, art installations, projection screens, and unexpected elements.
In December 2015, co-co-curated by conductor Edwin Outwater and vocalist Meow Meow, ​"In Descent" is a German cabaret of high standards, subversive culture, music, laughter, intimacy, body movement, and drama between stage and audience.
In January 2017, Outwater explored place and perspective with ​"MACRO/MICRO". This concert promised to experience music through differing frames of reference — from nosebleed heights and otherworldly realms down to the minutest cellular level with pieces. The first half of the concert included pieces by Haydn, Vaughan Williams and Christopher rouse before being whisked off to South America in the second half through musical depictions of folk and mythological scenes with pieces by Gabriela Lena Frank and Osvaldo Golijov.
In December 2018, Edwin curated and conducted ​"Dream State" with works ranging from Fauré and Ravel to Daníel Bjarnason and Salvatore Sciarrino inviting listeners to wade through shadowy dreams.
Moema Parrott
CEO HP Group & Associated Companies | President HP Paris
Tabitha McGrath
Associate Director, Artist Management & Projects