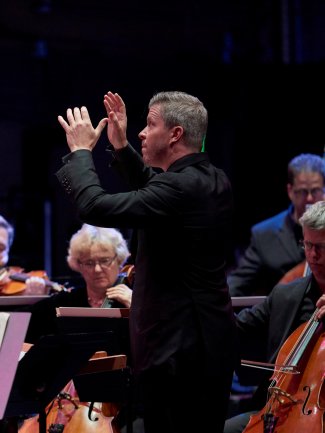 Edwin Outwater:

BEETHOVEN

AND

YOUR

BRAIN
Daniel Levitin, author of the best-selling books This Is Your Brain on Music and The World In Six Songs, has performed with Sting, cracked jokes with Robin Williams, and been heard on the CBC, NPR, and at Google HQ.
Together with conductor Edwin Outwater, they provide an insight into the brain when it comes into contact with Beethoven's Fifth Symphony.
This experience delves into the mind of the conductor, the musicians, and the audience in an interactive presentation with live audience surveys using the latest technology.
"The audience seemed to relish every moment of the performance, which was part concert, part science lecture, and part ​"interactive Beethoven love-in…"
Dan Falk, New Scientist
"With licence from the maestro to act as they please, the audience responded first with a pair of isolated whoops and hollers, then collected into a community outburst of spontaneous clapping, stomping, yelping and whoop-pah! With the otherwise staid symphony crowd tasting a new-found freedom of understanding, expression, and emotive response to symphonic music, is it possible the horse is out of the barn?"
Stephen Preece, Kitchener-Waterloo Record
Moema Parrott
CEO HP Group & Associated Companies | President HP Paris
Tabitha McGrath
Associate Director, Artist Management & Projects