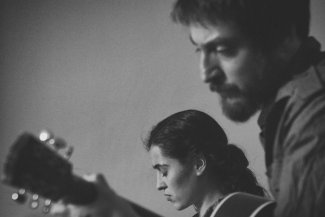 Iberian nights concerts in partnership with Shakespeare's Globe as part of the theatre company's Concerts by Candlelight series at the Sam Wanamaker Playhouse.
The Iberian nights concerts kick off a brand new initiative for Polyarts, ECLECTICA, which aims to blur cultures and genres — travelling from Scandinavia, through Spain, to Latin America and Asia and fusing music from the classical to world, jazz, flamenco, fado, indie, rock and visual arts — to create a unique experience for audiences.
Flamenco singers and Polyarts artists, Rocío Márquez and Sílvia Pérez Cruz, present the first two concerts of the series on 22 and 23 March 2015. The artists will perform an exclusive and intimate program of their choice, allowing experimentation of all facets of their inspiration, thereby providing a uniquely personal connection with the audience in this unique, candle lit venue. Márquez will be accompanied by guitarist Miguel Ángel Cortés and the percussion duo Los Mellis, whilst Sílvia will be joined by guitarist Raül Fernández Miró.