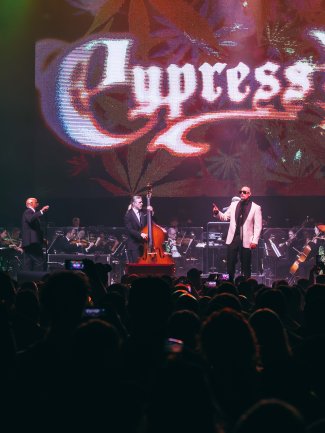 CYPRESS

HILL

:

SYMPHONIC

–

SUMMER

2024
19/9/2023
Polyarts partners with Deb Klein at Primary Wave Music and Scott Thomas at X-ray Touring on a unique series of symphonic concerts
Three decades ago, B‑Real, Sen Dog, and DJ Muggs sparked a trip that left pop culture stoned, stunned, and staggering in anticipation of more. Named after a local street in Los Angeles, Cypress Hill burst onto the scene in 1991, and since then, they have sold over 20 million albums worldwide, obtaining both platinum and multi-platinum certifications. With three Grammy nominations and countless other awards and accolades, Cypress Hill is a dynamic, groundbreaking group with a singular, legendary sound.
As is often the case with major figures in pop culture, Cypress Hill's meteoric rise caught the attention of the writers of The Simpsons, and in 1996, the episode ​'Homerpalooza' joked that the group had accidentally booked a gig with the London Symphony Orchestra while under the influence.
Now, following the 30th anniversary of their famous album Black Sunday, that mere joke is becoming an exciting reality. With 21 new orchestral arrangements of their most iconic songs, from ​'Insane in the Brain' to ​'Dr. Greenthumb,' Cypress Hill: Symphonic demonstrates the depth and quality of their music in a brand new and completely original concert experience.
The production has already begun its world takeover, performing for vivacious audiences in the US with the Colorado and San Diego Symphonies this past summer, and upcoming concerts in Portland and Nashville. Now, as the project is expanding beyond North America, Polyarts is working with the band, their management team at Primary Wave and agents X‑ray Touring to begin planning and producing concerts internationally, setting sights on a UK/​European tour over the 2024 season, as well as possible dates in Asia, Australia, and South America.
Polyarts is thrilled to be a part of this one-of-a-kind production, and is looking forward to developing Cypress Hill: Symphonic into the international marvel it can be.
See additional materials for Cypress Hill: Symphonic here
Contact Moema Parrott and Tom Macpherson for all UK/​Europe/​Worldwide enquiries (excluding North America) for Summer 2024 and beyond.
Moema Parrott
CEO HP Group & Associated Companies | President HP Paris
Tom Macpherson
Associate Director, Attractions & Productions