'

AURORA

'

BY

JIMMY

LÓPEZ

BELLIDO

WITH

LETICIA

MORENO

NOMINATED

FOR

LATIN

GRAMMY
21/9/2022
Aurora by Jimmy López Bellido alongside violinist Leticia Moreno has been nominated for a Latin GRAMMY in the Best Classical Contemporary Composition category.
The Concerto for Violin and Orchestra was released on PENTATONE's album Aurora & Ad Astra, on which Leticia Moreno, Houston Symphony, and Music Director Andrés Orozco-Estrada present two world premiere recordings of works by López Bellido. Aurora, for Solo Violin and Orchestra, and Symphony No.2: Ad Astra share a fascination for the stars. Aurora is inspired by López Bellido's years spent in Finland, and particularly the privilege of witnessing the northern lights.
With this recording, Leticia Moreno consolidates her journey through contemporary repertoire where she has performed works by composers Esa Pekka Salonen, Peter Eötvös, Krzysztof Penderecki, Magnus Lindberg, Fazil Say, Donghoon Shin and Gabriel Prokofiev, leading her to perform around the world with orchestras such as Mahler Chamber Orchestra, Mozarteum Salzburg, Philharmonia, Saint Petersburg Philharmonic and NHK Tokyo amongst others.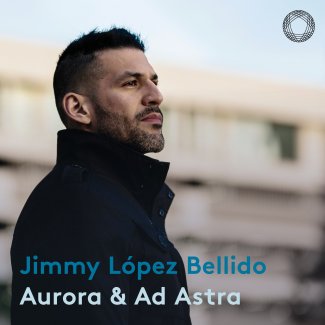 Aurora is published by Filarmonika commissioned by the Houston Symphony and Andrés Orozco-Estrada, and dedicated to Leticia Moreno.
"This piece has great significance to me, not only because of its subject and its connection to my beloved Finland, but also because it is my first collaboration with Conductor Andrés Orozco-Estrada as composer-in-residence of the world-class Houston Symphony. Aurora is dedicated to Leticia Moreno, whose energy and excitement have been an enormous source of inspiration." - Jimmy López Bellido © 2017.
The Latin GRAMMY Awards are the preeminent international honour and the only peer-selected award celebrating excellence in Latin music worldwide. The 23rd Annual Latin GRAMMY Awards will be presented on 17 November in Las Vegas.
Ilaria Faleschini
Associate Projects, Artists & Operations Manager