Eímear Noone composes scores for ​

'

Orchestra of Light' in celebration of St Patrick's Day
17/3/2021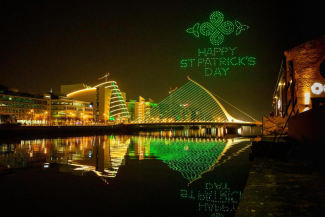 To celebrate St. Patrick's Day 2021, St. Patrick's Festival, Tourism Ireland and Dublin City Council, in collaboration with Intel and Actavo Events, present Orchestra of Light, a beautiful film featuring a fleet of 500 drones dancing across Dublin's night sky. The short film produced by ShinAwiL, is scored by Eímear Noone and Craig Stuart Garfinkle and performed by the RTE National Symphony Orchestra.
Prior to this event, Eímear Noone and the RTE National Symphony Orchestra collaborated for the ​'Pure Imagination' virtual concert in December 2020, where Eímear conducted the orchestra in scores from movies, musicals and video games. ​'Orchestra of Light', marks the second collaboration between the two in the recent months with more exciting and innovative upcoming events in 2021 & 2022.
The short film presents a heartfelt, uplifting celebration of the national day, and spreads a message of hope to audiences around the globe. Orchestra of Light was pre-recorded in Dublin in early March 2021. The film features a performance by Intel® Drone Light Shows, Intel's first ever Drone Light Show in Ireland. In this cutting-edge display, drones blur the boundaries between technology and art as they light up the sky above Ireland's capital city, illuminating some of Dublin's most well-known landmarks such as the Samuel Beckett Bridge and the Convention Centre Dublin. A series of animations designed by St. Patrick's Festival and Aiden Grennelle tell a powerful story of love, hope and home, while celtic knots, musical instruments and Irish dance represent the world-wide reach and love of Irish culture, celebrated by millions each year on 17 March. Along with RTÉ National Symphony Orchestra, Noone and Garfinkle collaborate with Irish band Picture This on the score, which features an orchestral remix of the band's latest single ​'Things Are Different'.