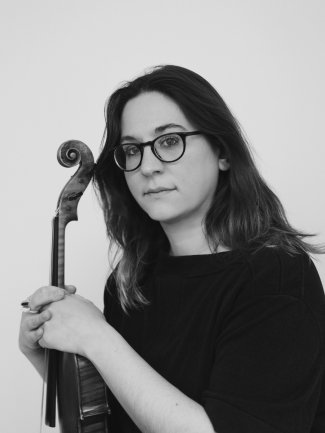 NADIA

SIROTA

APPEARS

AT

SAN

FRANCISCO

SYMPHONY

'S

SOUNDBOX
18/12/2018
Nadia Sirota appeared at San Francisco Symphony's (SFS) groundbreaking SoundBox series over the weekend, curated and conducted by Edwin Outwater.
Nadia played Daníel Bjarnason​'s Sleep Variations this Friday and Saturday along with members of the San Francisco Symphony. The SoundBox series is now in its fifth season in 2018/19, with three eclectic programs curated by Edwin Outwater, Bryce Dessner, and Missy Mazzoli. The experimental late-night live music series is a laboratory for exploration of new musical ideas and immersive audience experiences, continuously pushing the envelope with adventurous programming and innovative design.
Taking place in a backstage rehearsal space at Davies Symphony Hall, each performance is unique — encompassing shifting stage settings, art installations, projection screens, and unexpected elements. This approach to new and interesting music is a perfect fit for Nadia who herself is pioneering new spaces and formats with the New York Phil in her role as Creative Partner.
Nadia is back on the West Coast on 12 January 2019 hosting a live podcast event with Andrew Norman and Caroline Shaw at the ACE Hotel. Find out more here.