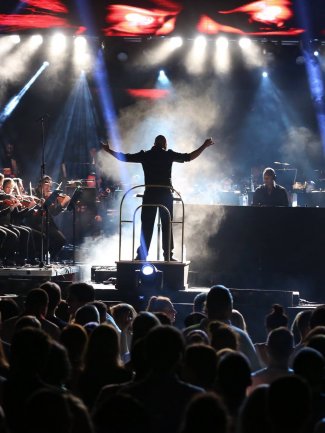 POLYARTS

SIGNS

TECHNO

PIONEER

DERRICK

MAY

FOR

GLOBAL

ORCHESTRAL

PROJECTS
15/6/2018
Polyarts are thrilled to announce worldwide live representation of Derrick May's orchestral project: Derrick May & the Orchestra.
A pioneer in electronic music who has helped originate a style that has changed the sound and form of popular music across the world, Derrick May has recorded techno tracks which top dance producers refer to as the most original and influential of its time. The classic Derrick May sound is a clever balance between streamlined percussion-heavy cascades of sound and string samples which he observes as being originally created with an orchestra in mind.
See more

May says: ​"I always thought that every song I made could be performed by an orchestra, but I never thought it could happen."

Also featuring Francesco Tristano, ​'Derrick May & the Orchestra' brings to life Derrick's back catalogue of early recordings, such as Strings of Life and tracks from his Innovator record, through the orchestra. The project emerged when producer Ognen Uzunovski asked Macedonian musician Dzijan Emin to reinterpret May's catalogue for a symphonic presentation and for Dzijan to direct the show.

About the project, Emin says: ​"I just followed my instinct, following Derrick's ideas and finding what was hiding in his music".

The project was premiered in Ohrid with Macedonian Philharmonic and has since been performed with Symfonierorkest Vlaanderen, Orchestre Lamoureux, Dallas Symphony Orchestra and Melbourne Symphony Orchestra among others.

This is the third new signing for Polyarts this year, with more set to be announced.