Ollie Howell becomes a Friend of the Youth Music charity
6/10/2017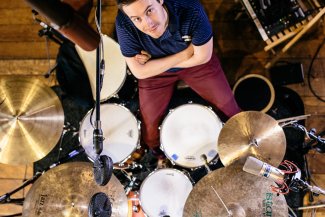 Multi-award winning drummer and composer Ollie Howell has become a Friend of the Youth Music charity, which invests in music-making projects for children and young people facing challenging circumstances.
Ollie said: ​'The impact music can have on someone, and particularly on young people, is simply unparalleled, and sadly not all children have the much-needed access to it growing up.'
Discussing his support of the charity, he praised Youth Music for its ​'vision and passion that all young people deserve the right to have access and opportunities for music, whether they are poor, suffer from physical or mental health conditions or have challenging backgrounds.'
Youth Music's CEO, Matt Griffiths added: ​'We are thrilled to have Ollie's continued support for Youth Music. Aside from his brilliant work as a percussionist and composer, his life experience has left him with a deep understanding of how music can change lives. He really understands the importance of our work, particularly with those who face significant challenges in their lives.'
Youth Music works with disadvantaged young people facing disability, poverty, mental health issues, refugee status and being brought up in care. It invests in around 350 national projects every year, giving around 75,000 children and young people the opportunity to make music in their local community. Find out more about the work of the charity by visiting www​.youth​mu​sic​.org​.uk.