Becca Stevens performs in Ten Thousand Leaves at the Jazz Gallery, New York
23/6/2016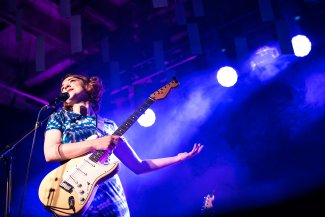 Becca Stevens performs on 24 and 25 June as part of the multi-disciplinary live installation, Ten Thousand Leaves in its first residency at The Jazz Gallery, New York.
The project has been awarded the ​'Performing Arts Japan' grant by The Japan Foundation and is sponsored by YAMAHA Corporation of America — Becca is pictured here with Aya Nishina and Japanese Ambassador Takahashi from the Consulate General of Japan in New York.
The project is inspired by Japanese women's poetry from Man-yo-shu(Collection of Ten Thousand Leaves) and essays such as Makura-no-sōshi(The Pillow Book). Becca Stevens and Aya Nishina premiere songs of modern lyricism that blend traditional Irish folk music and Japanese Gagaku — court music from the 7th century. The second component of the New York residency brings a Children's Tea Ceremony to The Farm Soho on 26 June inviting local elementary to high school students (ages 3 – 18) to a one-of-a-kind international cultural experience.
Becca's recent highlights include: The Barbican, Royal Festival Hall, Cheltenham Jazz Festival, North Sea Jazz Festival, Barcelona Jazz Festival, National Sawdust, Rockwood and JazzKaar Festival. She is currently working towards her next album ​'Regina' which will be released in 2017.