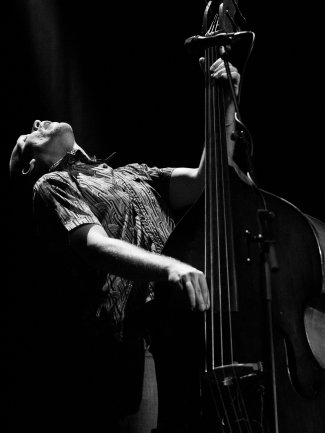 Polyarts artist Avishai Cohen presents the ​

'

Avishai Cohen Weekend' at Philharmonie de Paris
8/2/2016
Bassist, singer, composer, innovator and jazz visionary, Polyarts artist Avishai Cohen, takes over the Philharmonie de Paris for a sold out weekend-long programme entitled the ​'Avishai Cohen Weekend' on 26 February. The weekend includes his brand new project for symphony orchestra — ​'An Evening with Avishai Cohen' — as well as a Trio concert, a Sextet concert and a performance with pianist Chano Domínguez.
"One of the most accomplished virtuosi of the double bass in any form of music" (The Observer) and ​"a born entertainer" (The Guardian), Avishai Cohen has over two decades experience of composing music that embraces a vital blend of traditions, cultures, languages and styles. His new orchestral project combines the dynamic core ​'Avishai Cohen Trio' — double bass, drums and piano — with a new, sophisticated orchestral dimension.
The orchestral programme includes settings of Cohen's own contemporary jazz and world music compositions, orchestrated traditional Hebrew and Ladino songs, and selected classical works, while the arrangements span set-ups for solo, trio and full orchestra. Orchestrations are by New York's Grammy Award-winning Robert Sadin — who has worked closely with Herbie Hancock, Wayne Shorter and Sting and whose work has been performed by some of the world's top orchestras including the New York Philharmonic and the Boston and Chicago Symphony Orchestras — while arrangements are by Sadin and Cohen.
Premiered in Malmö with the Malmö Symfoniorkester in September 2015, Cohen also brings the project to Lyon (Orchestre national de Lyon), Monaco (Orchestre Philharmonique de Monte-Carlo), Musikverein (Tonkünstler-Orchester Niederösterreich), Wiener Konzerthaus (Brno Philharmonic Orchestra) and Flagey and Ghent with the Brussels Philharmonic.