"Their playing is exuberant, funky and more exactingly nuanced."

(New York Times)
Two-time GRAMMY-award winning Attacca Quartet are recognised and acclaimed as one of the most versatile and outstanding ensembles of the moment — a true quartet for modern times. Gliding through traditional classical repertoire through to electronic, video game music and contemporary collaborations, they are one of the world's most innovative and respected ensembles.
In 2021, the quartet released two albums that embody their redefinition of what a string quartet can be. The first Album, Real Life, featuring guest artists such as Tokimonsta, Daedalus, and Anne Müller, was followed up by Of all Joys, which features works from Phillip Glass, Arvo Pärt, and music of the Renaissance period. Passionate advocates of contemporary repertoire, the quartet are dedicated to presenting and recording new works. Their 2019 release Orange, in collaboration with Caroline Shaw, saw them win the 2020 GRAMMY Award for Best Chamber Music/​Small Ensemble Performance, with their follow-up album Evergreen winning the 2023 award in the same category. The quartet continue to perform in the world's best venues and festivals.
Recent highlights include Lincoln Center's White Light Festival and Miller Theatre, Carnegie Hall, Phillips Collection, Chamber Music Detroit, Chamber Music Austin and Isabella Stewart Gardner Museum in Boston as well as Ojai Festival, BRIC Arts and Big Ears Festival. Outside of the US, performances include Kings Place and in Oslo at the Vertavo Haydn Festival as well as performances at Gothenburg Konserthuset, MITO Septembre Festival in Italy, Sociedad Filarmónica de Bilbao, Strijkkwartet Biennale Amsterdam, Strings of Autumn Festival Prague, Thüringer Bachwochen, Sala São Paulo in Brazil, Fundación Beethoven in Chile, National Theatre of Panamá, and Teatro Mayor in Bogota.

The founding members of the Attacca Quartet met while all studying at the Juilliard School in the early 2000s and they made their professional debut at the Carnegie Hall in 2003. Other accolades include First Prize at the 7th Osaka International Chamber Music Competition, the Top Prize and Listeners' Choice award winners for the Melbourne International Chamber Music Competition, and Grand Prize Winners of the 60th annual Coleman Chamber Ensemble Competition.

The Attacca Quartet has engaged in extensive educational and community outreach projects, serving as guest artists and teaching fellows at the Lincoln Center Institute, University of Texas, Juilliard School, the Boston University Tanglewood Institute and Bravo! Vail Valley, among others. They are expert programmers and communicators, and beautifully mix existing works with those by living composers.

Attacca Quartet is:

Amy Schroeder (she/​her) — violin
Domenic Salerni (he/​him) — violin
Nathan Schram (he/​him) — viola
Andrew Yee (she/​they) — cello
Gallery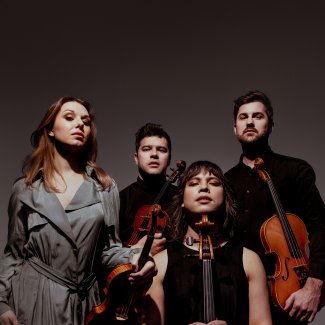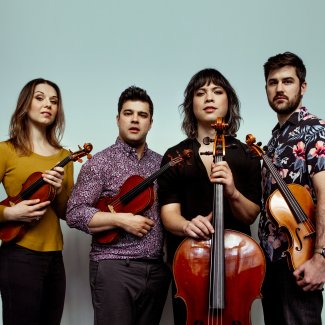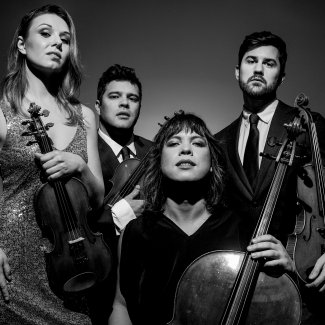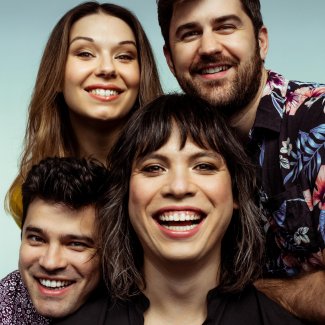 Attacca's appearance was all too brief, but could justify their own turn at directing the festival one day. Whether in works by Adams, Jessie Montgomery or Caroline Shaw, in Paul Wiancko's vividly episodic ​"Benkei's Standing Death" or Gabriella Smith's jam-like ​"Carrot Revolution," these open-eared and open-minded players don't seem to bring a piece to the stage until it is etched into their bones, so fully is each score embodied.
The New York Times - Josh Barone
"Attacca travel from Haydn to this adventurous mix of contemporary, electronic and rock impact music, but know how to ​"live in the present without rejecting the virtues of the past". An example of a successful crossover. As Alban Berg said to Gershwin, ​"music is music".
Rolling Stones Italy on Real Life, 2021
"…a surprisingly powerful experience"
(Charlotte Gardner, The Strad, January 2020)
"The quartet matched with its own clean-edged sound, often without vibrato, alive to the vocal line's every wax and wane and remaining glued to the music's elastic tempos. Perhaps the greatest imprint on the memory is the atmosphere the musicians spun in the hall: one of profound silence, and even the room-filling fortissimo bursts felt weighted in that context, holding the audience's attention to an unusual and moving degree."
(Charlotte Gardner, The Strad, January 2020)
"The pieces on Orange shoot off in thrilling and unpredictable directions…the music of Orange excludes joy and a sense of wilderness"
Pitchfork
"They may be a relatively young ensemble, but already they come very close to epitomizing the string quartet ideal…Mastery like this is scarce enough in quartets that have played together for decades."
The Washington Post
"exuberant, funky and…more exactingly nuanced."
The New York Times
"The Attacca Quartet enthralled a standing-room-only crowd."
The Strad
"the opening work on the recording [shows]…the Attacca Quartet's superlative technical and artistic execution."
Gramophone
"They are rollicking, raucous, and highly rhythmic and the perfect demonstration of the quartet's ability to be precise."
Strings
"…Seeing the Attacca Quartet's incredible performance of his music. Three cheers to them for capturing the multiplicity of personalities embedded in Adams' music."
Bachtrack
"The highlight was the second movement, which is a gem, and was played with elegance and charm, but also a sense of relaxed enjoyment from a quartet steeped in contemporary ​"knowingness" playing music of an earlier, perhaps simpler, age."
Artsdesk